After three decades of launch, until today Graves Of Fireflies continues to hurt us with an poster like this.
Graves Of Fireflies is a cartoon work by the late director Isao Takahata. Launched in 1988, Graves Of Fireflies has been ranked among the masterpieces of the famous Ghibli film studio, and has always been in the top of the best cartoons charts of all time.
The main plot of Graves Of Fireflies revolves around two brothers who lost their mother in the context of World War II in Japan. The enlisted father, who did not know live or die in the front, and the two brothers had to struggle to earn a living in the poverty and ruthlessness of the aunt. Later, the brothers carried each other to live in the bomb shelter, then the younger sister died of hunger and disease, and the brother received the news that his father had died in the battlefield. Finally, the boy also died at a station when Japan surrendered to the Americans. Recently, a Twitter user account posted a new discovery of the movie's poster photo. In this photo, the two main characters Seita and Setsuko are smiling and holding hands to receive the bright spots in the night sky, believed to be the fireflies that appear along the river. The happy scene is rarely seen in a tragedy like Graves Of Fireflies.
However, the this fan discovered when increasing the brightness of the poster, the image of an American bomber dropping out of the sky will appear on the sky, right above the two brothers. It turns out, the beautiful sight of light spots, not the fireflies, but the rain of bullets discharging from above. The contrast between the image of innocent children and the near death is so painful no matter how many times you watch the film.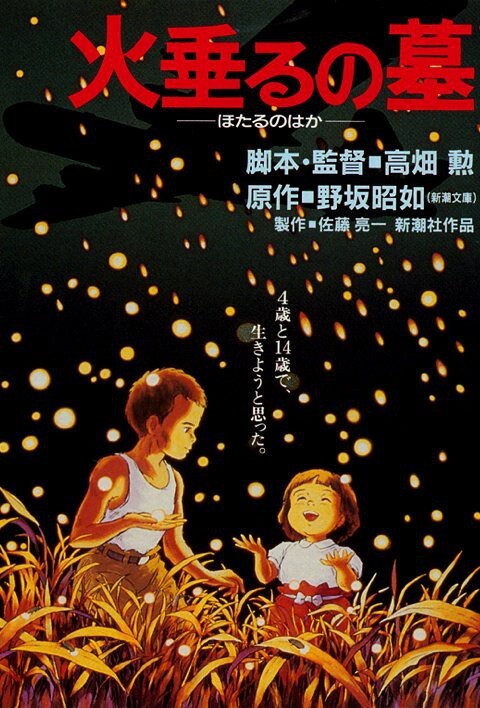 Twitter user shared the status line as follows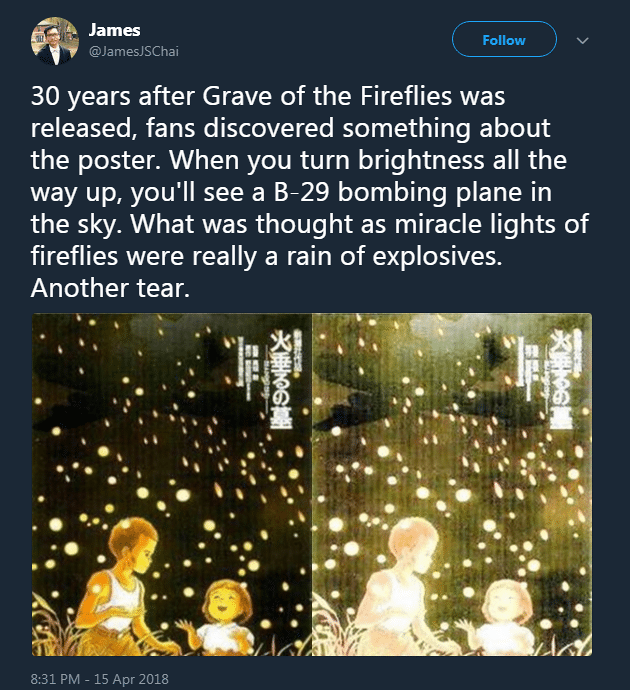 This emotional state after more than half a day of posting received more than 67 thousand votes and 35,000 shares. Below the status line, there are many other users who share the heartache and obsession about this movie.
Coincidentally, the day when the status line was posted is also the 10th anniversary of the death of the father of this film, which is also the 30th anniversary of the launch of Graves Of Fireflies. Those who love Mr. Isao Takahata in particular and his works, in general, are wondering, how much more can Graves Of Fireflies still make us experience more painful feelings in life?