I call Kiki's Delivery Service that 'Every Child's Dream' is true or not? But at least the film portrays a dream picture of me as a child, and I believe it's a dream of many another child. Dream of flying. The dream is to ride on a broomstick, fly over people's heads, vi vu throughout the city, meet good people, help people. All like a beautiful fairy picture always exists in our childhood. Watching the movie, I suddenly remembered "Witch Xuka" in Doraemon short stories with the dream of being a witch.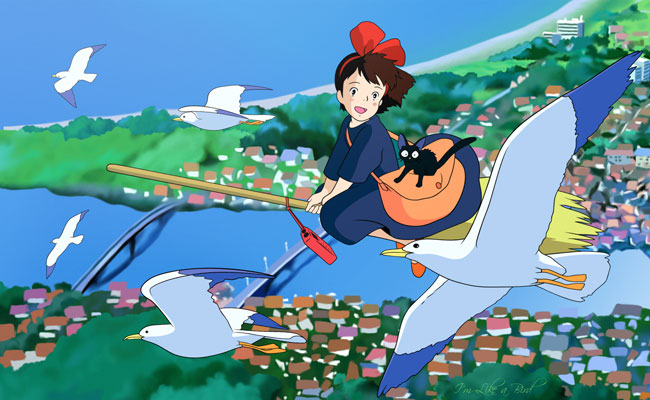 But Kiki in the movie does not need to dream of doing anything, because she is a witch. With the custom until 13 years old, all witches had to leave home, go to another city and train for a year, Kiki made a quick decision, choosing tonight because of the weather forecast tonight full moon. Very cute and very authentic.
The journey to the city of Kiki is not simple, heavy rain so sleeping in wagons containing weeds and waking up with beautiful cows, city is beautiful, but not very friendly. It was hopeless to find Kiki's home, and eventually she met the kind Aunt Osono who was willing to let Kiki stay on the attic. And from here "Kiki delivery service" was born. Each delivery is an exciting experience, learning more about people in this beautiful and large city. Kiki meets the kind Madame with the baking talent, meets Jeff, the old, gentle dog who has helped most of the time in rescuing Jiji, meets and befriends Tombo – a mischievous boy but he is determined and serious with his flying dream. And according to me, Kiki's most meaningful meeting is with Ursula – the girl in the forest. Talking more about Ursula, this girl is generous with shorts and a tank top, all day long, and seems to be separate from the world while alone in the wooded house in the forest. You may find it strange, but I find this girl, the same way of life, very interesting, alone in a place, amidst the vast nature of what she wants to do, is really great. But it is worth mentioning that not only is Ursula's way of life but her advice to Kiki when Kiki loses her ability to fly and loses her faith in herself.
– Painting and magical powers seem very much the same. Sometimes I'm unable to paint a thing.
– You mean it? Then what? What happens? […]
– You know, could be you're working at it too hard. Có thể bạn chỉ cần lấy một gỡ bỏ.
– Yeah, but still, if I can't fly …
– Then stop trying. Take long walks. Look at the scenery. Doze off at noon. Don't even think about flying.And then, pretty soon, you'll be flying again.
– You think my problem will …
– Got away? That's right. It's gonna be fine. I promise.
A good and timely advice. "Don't try more" is not a renunciation but a pause, to rest, to relax, like reloading your mind. And indeed, this advice worked when the end of the movie, Tombo was suspended in the sky, with a broom that never rode, Kiki, though difficult, still brought him to the ground safely. Perhaps in many Ghibli films there are always beautiful friendships like love, here are Kiki and Tombo.
Buy now : Kiki's Delivery Service Cosplay