10. When Marnie Was There (2014)
(dir. Hiromasa Yonebayashi)
Anna is a girl without friends, living with foster parents. One day, she was sent to live with Mr. and Mrs. Pegg in Norfolk. In the new residence, Anna runs on the sandy hills, stumbling upon the Marsh House house and getting to know a strange girlfriend named Marnie.
Marnie became Anna's first friend but one day, Marnie suddenly disappeared. Later, Lindsay's family moved to Marsh House. Anna becomes close to the Lindsay family, so she learns the truth behind Marnie's identity.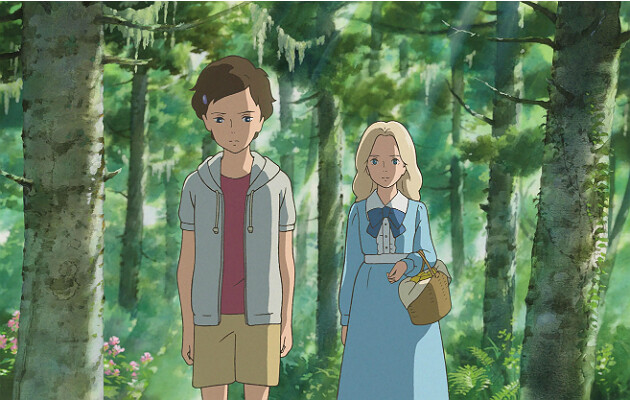 9. My Neighbour Totoro (1988)
(dir. Hayao Miyazaki)
Kusakabe's family moved to rural areas. In the new house they moved to was rumored to be haunted. Satsuki (11 years old) and Mei (4 years old) were very curious about it, where the two of them got acquainted with the kind old lady and her grandson Kanta.
Once running in the forest near her home, Mei stumbles upon the forest god there, a cute, big belly animal, who calls it Totoro after the animal in her picture book. After hearing Mei tell that she met Totoro, Satsuki also wishes to meet Totoro. And the two sisters met Totoro again when they arrived at the bus stop waiting for his father. Since then the lives of the two sisters began to change and the two sisters' amazing adventure began …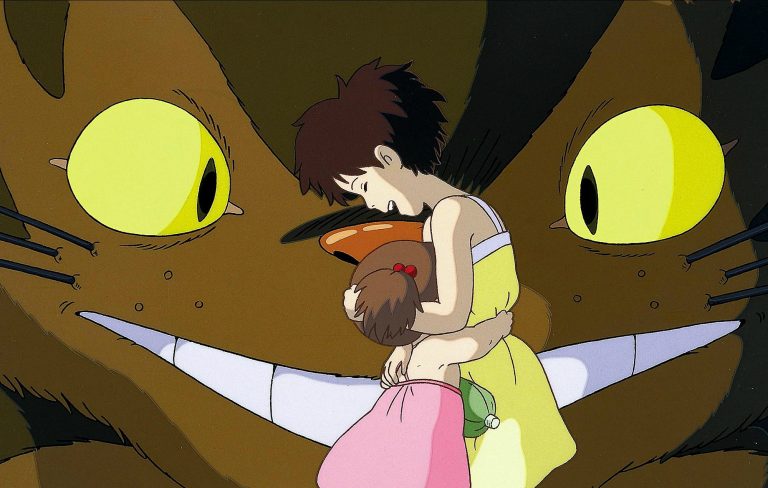 8. Nausiccå Of The Valley Of The Wind (1984)
(dir. Hayao Miyazaki)
Nausicaa Of The Valley Of The Wind is an apocalyptic fantasy adventure movie, composed and directed by Hayao Miyazaki, based on his eponymous manga. The film is about Nausicaä, the young princess of the Wind Valley, who was dragged into the war with Tolmekia, a kingdom that uses ancient weapons to destroy the forests of giant mutants. Nausicaä's mission must prevent Tolmekia from attacking these creatures.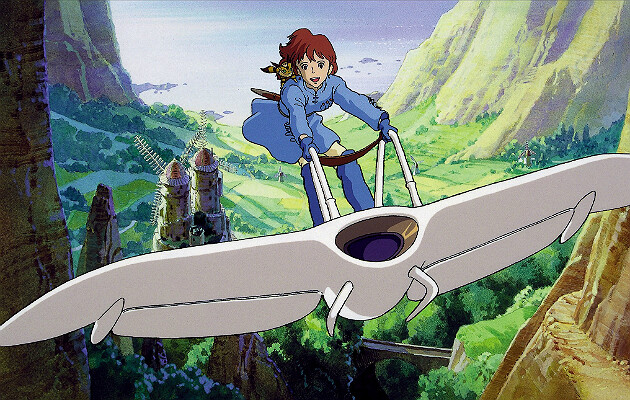 7. Pom Poko (1994)
(dir. Isao Takahata)
The forest where Tama Hills pandas live is threatened by human development. They decided to resist by using an ancient magic to transform into objects, even turning into humans. At first they cheated and threatened people but their fight became tragic when some were killed. Eventually they were forced to seek the help of animals in the nearby forest – animals that had to give up the struggle and live like humans in the city.
Humans destroyed the natural forests and trees. The bear does not know where to live when it is surrounded by dilapidated houses and polluted emissions. Will the bear be left alone when this earth is created for all species that humans have given themselves to the right to dominate?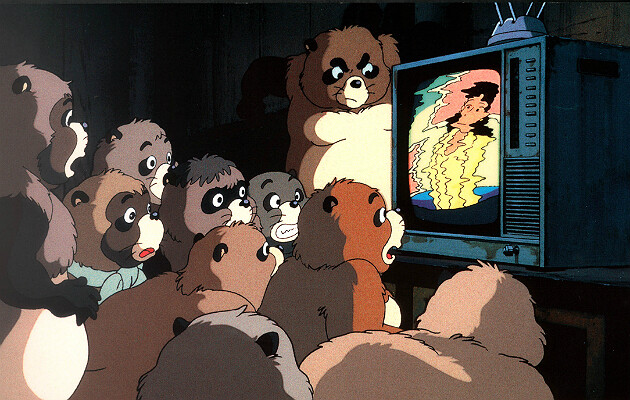 6. Spirited Away (2001)
(dir. Hayao Miyazaki)
The story is about a stubborn Chihiro. Chihiro's family moved from the city to their hometown, and Chihiro didn't like it at all.
Chihiro's father is a bad driver and has a "too bad" memory, he drove astray to an abandoned, uninhabited city. Fascinated by the delicious taste of food, Chihiro's parents began to "enjoy", but they were turned into fat pigs. And the other city, after dark, all lived up, ghosts began to appear and function. What will the stubborn girl do to save her parents and get out of here?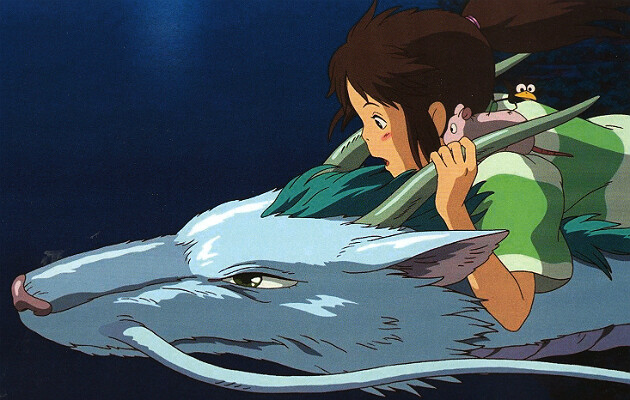 5. Grave of the Fireflies (1988)
(dir. Isao Takahata)
A harrowing tale about a brother, Seita, and his younger sister, Setsuko, whose home is firebombed during WWII. The film follows them as they struggle to survive, losing their dignity, their access to food and water but never their bond as family. This is Takahata's finest work that is a genuinely horrifying portrayal of the violence of war. It's upsetting without being manipulative, a testament to its masterful storytelling. 4. Howl's Moving Castle (2004)
(dir. Hayao Miyazaki)
Howl's Moving Castle is a popular Japanese animation film about Sophie – an 18 year old hat maker and then the curse of the old witch turned her into an old lady 90. Sophie initially shivered at the change. this. However, she gradually accepted this as a way to free herself from worry, fear and embarrassment. This curse is also a lucky chance for her to begin her adventure …
Will Sophie find her true form? What are the dangers of her adventure? 3. Castle In The Sky (1986)
(dir. Hayao Miyazaki)
Movie Laputa Castle In The Sky revolves around the search for Laputa – an island or rather a castle floating in the sky of two friends Pazu and Sheeta. Levistone stone jeweler necklace is a family of Laputa family, a mysterious and ancient royal family. The stone is the key and the last thing to prove the existence of Laputa.
As the last remaining heir of the dynasty, Sheeta was pursued by the secret army led by Mushka and the band of Dola, to deprive Levistone of the artifact, searching for the secret of Laputa. Protecting Sheeta in this journey is the chivalry of Pazu, the orphan who is enlightened, assisting in a small mining town. His mother died early, his father died in frustration, his burning dream was to prove the existence of Laputa, the court that became the legend his father saw once in his life. Pazu believes in the only picture of Laputa that his father took, the picture that people ridiculed was fake, causing him to go away bitterly … 2. Kiki's Delivery Service (1989)
(dir. Hayao Miyazaki)
Kiki is a young witch in training who moves to a new town and freelances at a bakery, delivering goods on her broom. Kiki struggles to strike a balance between work and building a new life with her friends, including a burgeoning romance with the adorably dorky Tombo. Kiki is an inspiring tale about independent young women and how to make the most of one's idiosyncrasies. The animation, characters, setting and feel-good nature of Kiki's Delivery Service – coupled with the fact the movie doesn't miss a beat in terms of momentum and intrigue – puts it slightly ahead of Miyazaki's most wholesome works.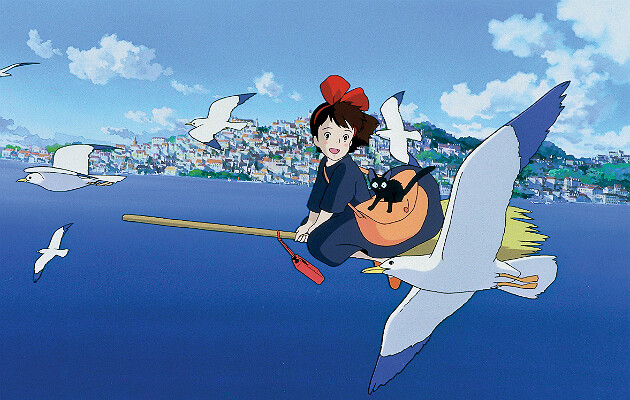 1. Princess Mononoke (1997)
(dir. Hayao Miyazaki)
Prince Ashitaka protects his rural village from threats of the forest. When a demonic corruption starts spreading across the land, he encounters San, the warrior princess raised by wolves. As the forces of Irontown led by the fearless Lady Eboshi strive to harvest the forest, and mercenaries hunt the Forest Spirit, Ashitaka and San must fight to keep the forest protected. A fantasy of epic proportions, Princess Mononoke is a masterclass in establishing themes, building a world around them and executing animated action sequence with fury and beauty. This is Miyazaki's greatest work fulfilled with enormity and prowess, a true masterpiece.